AA60PMC large Evaporative air cooler
stylish performer, ideal for a small-medium sized space in any home or office.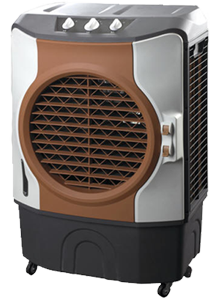 AA60PMC large Evaporative air cooler
The AA60PMC is a unique large evaporative air cooler with a massive 60 liter water tank capacity. It is built with three large honeycomb cooling media. Equipped with a powerful motor, it delivers excellent performance. The Built-in water overflow protection system allows it to be connected to a continuous water supply. Being weatherproof it can be used indoors as well as outdoors. Its mechanical knobs control is user friendly.
AA60PMC Specification
Product Size (mm) : 675(L)x430(W)x1045(H)
Packing Size (mm) : 755(L)x520(W)x1125(H)
Weight : NW-19 kg | GW-23 kg.
Enquire Now
AA8PMC

Powerful Air flow 380m3/hr (223 CFM)Cools Up To 11 sq. meters /120 sq. feet
Power consumption : 36 watts
Honeycomb cooling media for optimum cooling
Water tank capacity :5 Liter
Remote control
3 speeds: High/Med/Low
———-
———-
Easy mobility
Oscillating louvers
container qty: 840pcs/40'HQ
———-
Works on inverter
———-
AA07RC

Powerful Air flow 300m3/hour 176 CFM Cools Up To 11 sq. meters /120 sq. feett
Power consumption : 50 watts
Honeycomb cooling media for optimum cooling
Water tank capacity :7 Liter
Remote control
3 speeds: High/Med/Low
Detachable humidification level
0.5 to 7.5 hours OFF timer
Easy mobility
Oscillating louvers
container qty: 837pcs/40'HQ
Low water alarm (optional)
Works on inverter
———-
AA10RC

Powerful Air flow 510m3/hour 300 CFM Cools Up To 16 sq. meters/175 sq. feet
Power consumption : 150 watts
Honeycomb cooling media for optimum cooling
Water tank capacity :10 Liter
Remote control
3 speeds: High/Med/Low
Adjustable humidification level
1 to 7 hours OFF timer
Easy mobility
Oscillating louvers
container qty: 590pcs/40'HQ
Low water alarm (optional)
Works on inverter
Top load ice compartment
AA20RC

Powerful Air flow 800m3/hour 470 CFM Cools Up To 28 sq. meters/301 sq. feet
Power consumption : 200 watts
Honeycomb cooling media for optimum cooling
Water tank capacity :20 Liter
Remote control
3 speeds: High/Med/Low
Adjustable humidification level
1 to 7 hours OFF timer
Easy mobility
Oscillating louvers
container qty: 400pcs/40'HQ
Low water alarm (optional)
Works on inverter
Top load ice compartment
AA48PMC

Powerful Air flow 1800m3/hour 1062 CFM Cools Up To 57 sq. meters/610sq. feet
Power consumption : 140 watts
3 side Honeycomb cooling media for optimum cooling
Water tank capacity :48 Liter
———-
3 speeds: High/Med/Low
Continuous water supply connection
———-
Easy mobility
Oscillating louvers
container qty: 298pcs/40'HQ
———-
Works on inverter
———-
AA60PMC

Powerful Air flow 2800m3/hour 1650 CFM Cools Up To 80 sq. meters/860 sq. feet
Power consumption : 220 watts
3 side Honeycomb cooling media for optimum cooling
Water tank capacity :60 Liter
———-
3 speeds: High/Med/Low
Continuous water supply connection
———-
Easy mobility
Oscillating louvers
container qty: 145pcs/40'HQ
———-
Works on inverter
———-
AA60PMC large Evaporative air cooler is Ideal For :